 The castle formed an important part in the Welsh Baronial wars, changing hands often from Welsh Prince to Prince. Simon de Montfort and Owen ap Jorworth along with the de Clares all held the Castle, but as the strength of the the great families of the time was weak and estates far reaching, mobility was the key to survival and only small garrisons could be left for defence.
After all, food stocks were limited and large families had to move on to other houses and castles once supplies ran low.
The Welsh name for Usk is Brynbuga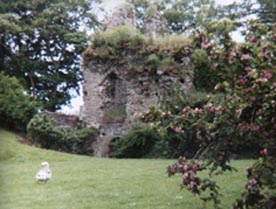 Usk castle Wales
Usk castle was built on the site of a Celtic iron-age fort by Tristram Fitz Rolf the standard bearer to William of Normandy (title Lord of Usk) and Richard de Clare one of Williams knights. (The Normans had reached Usk soon after the battle of Hastings 1066).The Normans Firstly followed their standard practice of building a wooden Motte and Bailey fort until the local area could be secured. Late after the square stone keep was built around 1115 and modified continually according to needs.
Sheep and ducks roam free inside of the Welsh Usk Castle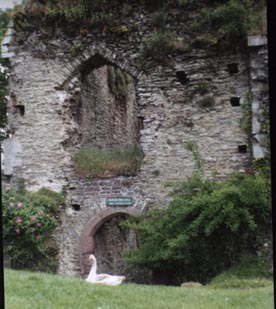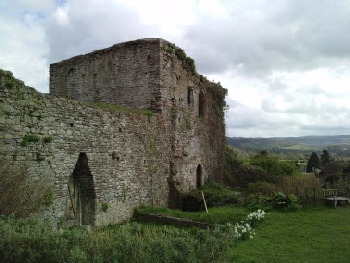 Usk Castle Wales history notes
Simon de Montfort and Owen ap Jorworth