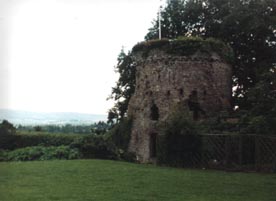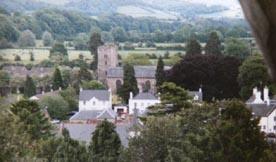 Usk castle Wales
The Garrison Tower of Usk Castle Wales
Usk castle was built on the site of a Celtic iron-age fort by Tristram Fitz Rolf the standard bearer to William of Normandy (title Lord of Usk) and Richard de Clare one of Williams knights. (The Normans had reached Usk soon after the battle of Hastings 1066).The Normans Firstly followed their standard practice of building a wooden Motte and Bailey fort until the local area could be secured. Late after the square stone keep was built around 1115 and modified continually according to needs.
View from the Garrison Tower of Usk Castle Wales toward Usk village
Welsh Prince (would be King) Owen Glyndower attacked Usk town in 1405. The garrison of the castle moved to the town and gave battle killing fifteen hundred of Owens force executing any taken prisoner.
Glyndower's own son was taken and the losses ended any chance of a future Welsh throne. Later Richard Duke of York stayed here during the Plantaginet wars and in 1483 the castle became the possession of King Richard III.
In 1554 Queen Catherine Parr became the owner and after her death the castle fell into decline. So much so that during the Civil War of 1642 Oliver Cromwell did not destroy it as he had done with all other Welsh castles as it posed little threat.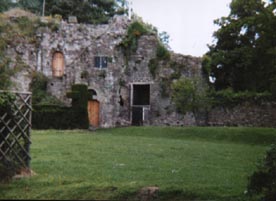 The Chapel (picture above) is still in use today.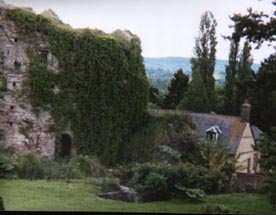 Usk Castle Wales history notes
Garrison Tower