 Polish army in exile history
Their country today, through a series of events, is now free. But as they themselves have created new families, in new countries, returning to the pre-war type 'home' that they once knew and fought for is not possible. As each remembrance day comes and goes, the ranks are fewer, however, the medals are polished as bright as ever. The words for their fallen friends are as meaningful for the old soldiers today, as at their first parade.
It is as well also, for new generations to spare a little thought for these survivors and fallen soldiers too. So that History may not repeat itself in the future and mankind make the same sort of mistakes. So it is hoped you find these notes and this part of the site interesting. To those who have an interest or may-be just curious, this is just a short history of these people, who, had history taken a different path might just as well have been the history of yourselves and your own countries.
Route of the 1st polish armoured division Normandy 1944
to the port of Wilhemshaven Germany 1945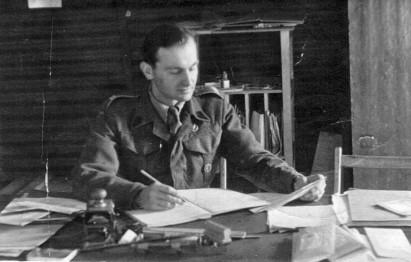 Head quarters office of the first polish armoured division 1944
THEY SHALL GROW NOT OLD
AS WE THAT ARE LEFT GROW OLD
AGE SHALL NOT WEARY THEM
NOR THE YEARS CONDEMN
AT THE GOING DOWN OF THE SUN
AND IN THE MORNING
WE WILL REMEMBER THEM
1ST Polish Armoured Division Photograph
Head Quarters offices Scotland 1944
For the fallen in defence of your freedom