 Introduced by penguin person General Ozzy Knowledge :-)
A cartoon buddy of Australia history notes maker.
Hello Buddy... Although Australia still has much common ground with the United Kingdom and today it may still share the head of state with the little country Britain, but this country is it's own master and politics are strictly Australian style.
My history notes
About 45000 BC the first Aboriginals settled the country arriving from India and south east Asia. Unmolested by western man they lived an isolated tribal existence. The Dutch arrived (Willem Jansz Duyfken discovered Cape York 1606 AD) but did not settle and colonise the island.
In the 17th century (1770) Captain James Cook claimed New South Wales for the British Crown but it was not until the 18th and 19th centuries that coastal and interior surveys were made. The Prison colony of Sydney was created in 1778, the actual prisoners may have been convicted and transported over the most trivial crimes', you could say that many were no more than a form of free' slave labour for the new country, created by the British judicial system.
Free settlers arrived around 1781. In 1829 Western Australia was colonised and 1836 South Australia was colonised. The British allowed Australian colonies to right to their own constitution and controlled self government in 1850.The last prison transports ended in 1868.
The colonies were gradually granted self government and eventually evolved into states. In 1901 the Commonwealth Of Australia was formed by the states of Queensland, Victoria, Tasmania, South Australia, New South Wales and Western Australia. (Prime minister, Sir Edmund Barton). The Northern Territory joined the group in 1911 and the capital city of Canberra was founded in 1927. [ More]
Date - Prime Ministers & Party
1901 - Sir Edmund Barton
Protectionist
1903 - Alfred Deakin
Protectionist
1904 - John Christian Watson
Labor
1904 - Sir George Huston Reid
Free trader
1905 - Alfred Deakin
Protectionist
1908 - Andrew Fisher
Labor
1909 - Alfred Deakin
Protectionist

1910 - Andrew Fisher
Labor
1913 - Sir Joseph Cook
Liberal
1914 - Andrew Fisher
Protectionist
1915 - William Morris Hughes
National Labor
1923 - Stanley Melbourne Bruce
Nationalist / Coalition
1929 - James Henry Scullin
Labor
1932 - Joseph Aloysius Lyons
United Australia / Coalition Government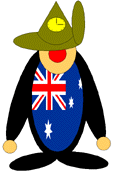 Australia history notes
Discovery and Captain James Cook